Our Class Descriptions are a great place to start to learn all the fabulous classes offered here at The Yoga Studio in San Jose.
Try all of our different yoga classes to find the style and teachers that are right for you!  Ashtanga, Power Flow, Aerial Yoga and Vinyasa classes tend to be the more physically demanding classes, while Gentle Yoga, Yin & Breath and more restorative yoga classes are less physically challenging.
Ready to sign up? Check our class packages or visit our new students page for more information!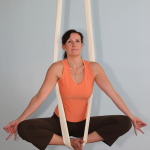 Yoga Classes San Jose CA
TYS™ Aerial Yoga
TYS™ Aerial Yoga has its deep roots in Unnata® Aerial Yoga, Ashtanga and Yin yoga.   TYS™ Aerial Yoga is an intelligent and complex style of Aerial Yoga.  It keeps you moving from one pose to the next, whether it's on the mat or in the hammock, in a deep and slow flow.  Instead of just linking the breath to the movement, you begin to move like the breath, in a wave of Yin and Yang as it …
Repeats the cycle of heating and cooling the body.
softens the muscles through compression and decompression.
integrates the body together as well as pulling it apart, in a good way.
grounds the body then elevates it again physically and energetically.
TYS™ Aerial Yoga uses a soft fabric hammock that supports up to a 1000 pounds to suspend practitioners while they do Yoga poses, so don't worry about your height or size.  Find an appropriate level of class for you, and come to experience the magic of our Aerial classes.
Here are the level of Aerial classes we offer:
Level 1 – appropriate for beginners or anyone who enjoys a more gentle pace.
Mixed Levels – various options will be offered for each pose making it more accessible for everyone.
Level II – this class is not for beginners, even if you have been practicing or teaching Yoga.  Please make sure you are comfortable in the Mixed Level class before trying this class.  This class is loaded with fun, but it is challenging.
TYS™ Gentle Aerial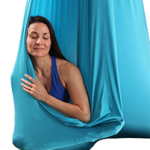 In this delightful and relaxing class, the hammock is hung only one foot from the floor enabling a gentler form of flowing movement that energizes the body, sooth tired muscles and releases tight areas. This soulful practice is a great way to awaken and rejuvenate your body, mind and spirit.
TYS™ Aerial Yoga for Kids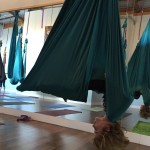 There is a growing body of evidence indicating that physical activity and fitness can benefit both health and academic performance for children. Regular participation in physical activity and higher levels of physical fitness have been linked to improved academic performance and brain functions, such as longer attention span and memory. These brain functions are the foundation for learning. Even single session of physical activity has been associated with better scores on academic tests, improved concentration, and more efficient transfers of information from short- to long-term memory. While physical activity keeps children healthy, it is also a great way to introduce Yoga to kids in a fun and playful way. Kids naturally love hanging upside down. Hanging out with us can literally turn your kid into a healthier and happier kid.
TYS™ Aerial Yin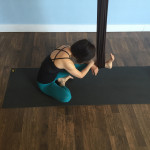 TYS™ Aerial Yin uses the Aerial Hammock for the traditional practice of Yin Yoga. In this class we will target the fascia, or connectivity tissues, to increase the flow of chi to promote good health, and to enable a wider range of movement to avoid injuries. We will focus less of how the pose should look from the outside, and emphasize more on how the pose should feel on the inside. The result of the deep stretches from this class is the body feeling softer, more subtle, increase in flexibility and a vital flow of energy.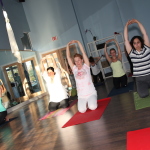 Gentle Yoga
Set the tone for your day with this gentle, life balancing practice. The class aims to strengthen, balance and rejuvenate the body through gentle and restorative movement, bringing a sense of calm to the nervous system. By creating balance in the body the mind will learn to follow. This class comprises a combination of postures coordinated with the breath, simple breathing techniques and a short guided meditation. The class is for all all levels of experience and flexibility.
This is an all levels class that is designed to promote self-mastery of the body, mind and spirit. The class will begin with a short discussion on the specific muscles and joints that will be focused in that class, followed by a long and juicy yoga tune up ball roll out. We move onto joint mobilization and fluid movements to create healthier joints and work towards a greater mind-body connection. The class ends with longer holding stretches, guided relaxation and pranayama