Considering Yoga Teacher Training?  Come and learn to teach one of the fastest growing styles of Yoga – Aerial Yoga
Join our training sessions in San Jose CA
What make us different is that … We keep the Yoga in Aerial Yoga.
For us … Aerial Yoga is not a style of Yoga, but rather a powerful prop that can be used to deepen any style of practice. We use the hammock to deepen the pose, deepen your understanding and bring back the fun in Yoga.
Like traditional Yoga, Aerial Yoga has an unparalleled ability to: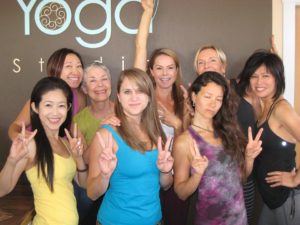 Decompress tight areas within the body
Relieve pressure while creating perfect and natural alignment
Practice advanced Yoga poses normally not accessible
Perform advanced yoga inversions without neck or back compression
Hold challenging Yoga poses longer and in correct alignment
Stretch further with less strain
Have greater freedom and range of movement
Enhance the Prana flow within the body
At The Yoga Studio, we offer TYS™ Aerial Yoga Teacher Training, a style of Aerial Yoga that is very Yoga based, thoughtfully structured, exceptional in quality and delivered with Yoga as the strong foundation.