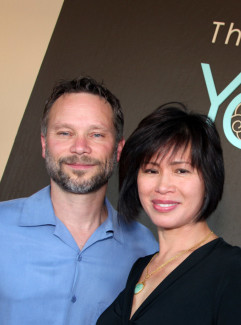 Aerial Consultation
Get the consultation you need for Aerial hammock installations.
How do we know the business side of Aerial Yoga?  We have done it successfully for ourselves, and assisted many studio owners and teachers in offering Aerial Yoga classes safely and successfully.
One hour phone Consultation.
Product Description
Aerial Hammock installation can be a daunting task.  Our Aerial Consultation can save you money, time and a lot of heartaches.
Your consultation with us doesn't have to just focus on the installation of your Aerial Hammocks.  In this one hour phone Aerial Consultation appointment we can talk about anything from pricing, marketing, insurance, operations or Aerial Hammock installation.  This is a great way to find out what you are getting into before you invest a large amount of money in building out the space and purchasing equipment.  Since most contractors are not familiar with Aerial equipment, rigging or the requirements for installation, we can also use this call to speak with your contractor without making him/her feel intimidated or uneasy.  Your local hardware store does not stock parts designed, build or rated for Aerial Yoga.  We can supply you with Aerial hammocks and installation parts to you or your contractor to make sure the job is done right.  A simple conversation that will help to keep your Aerial Yoga teachers and students as safe as possible.
Take the guess work out of Aerial Yoga.  Contact us for more information and to schedule an appointment.